Rising above the negative news cycle. Find help here…
When we learn about disturbing events and news that makes us cringe such as we have heard in the last few weeks, it can be extremely hard for us to process it. We may think that it's something that just should not have happened, it goes against our sense of right and wrong, and we just can't get our minds around why and how it happened. We may become obsessed with watching the same news reports over and over trying to grasp what happened. However, this just brings more sorrow and distress for the victims, and makes us feel like we are helpless to do anything. We may even fear for ourselves and our families. The more we watch, the more we feel despair, fear, anger, grief and discouragement. And when other traumatic life events such as the death of a loved one, or a car accident happen in the midst of this chaos, we can reach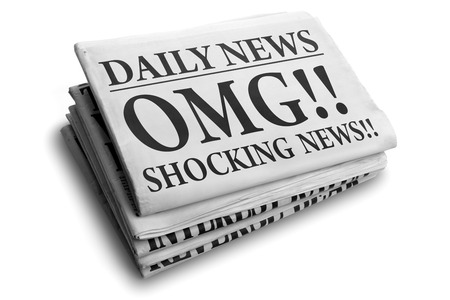 the tipping point and experience these emotions in a big way. If we have experienced trauma in the past, then current shocking events may trigger a resurgence of negative emotions and anxiety. One of the down-sides of our current media saturated culture is that it is easy to become "caught" in a negative media feedback loop. To help break this cycle, you can simply give yourself a "News Fast," by turning off the TV and not checking Facebook, etc. for a period of time. Regarding stress, trauma and negative thoughts, we have seen many people helped through using acupuncture.
When emotions overwhelm us, there is a ripple effect to the physical body which may manifest as back pain, headaches, digestive issues, insomnia, high blood pressure or a number of other symptoms. Rawls tells of a recent case she experienced. "I had a patient who I'll call Cindy (not her real name) who came in with upper back pain. When I had her point to the area of pain, it was in the area of the acupuncture point associated with the emotion of grief. I asked her if she had experienced an emotional upset and she related that her grandmother, to whom she was very close, had passed away the week before. Her emotion of grief and sorrow manifested as back pain."
We've discussed the emotions before in our blog posts in February about the Heart, and last year in December with our 5 Tips for Relieving Stress and Anxiety. However we find that most folks don't think about Acupuncture for help with grief, anxiety and despair associated with traumatic events.
Acupuncture supports the body's ability to heal naturally by addressing the areas of the body where emotions have created physical symptoms, and also by regulating the nervous system which stimulates our "fight or flight" response when we are stressed, and our "rest and digest" response when we are not. It also regulates the hormones that are produced by the body in response to the nervous system such as endorphins, cortisol, thyroid hormones and others. Acupuncture restores balance by stimulating the body's built-in healing mechanisms.
All emotions originate with the heart, and each system of the body has an associated emotion. The emotion of grief/sadness is associated with the lungs, anger is associated with the liver, worry and anxiety are associated with the spleen/pancreas, lack of joy is associated with the heart, and fear is associated with the kidney. Many times we'll see respiratory issues crop up with the emotion of grief. If there is excessive fear, as in an abusive situation, we see signs of adrenal fatigue (related to the kidneys) and/or low back pain. While it's perfectly normal to feel emotions some of the time, when they become excessive or extreme, when they come on suddenly as the result of traumatic events, or when we suppress them for a long time, we can see that they affect us in a physical way.
Post Traumatic Stress and Acupuncture
Any situation causing emotional, physical or mental trauma can result in PTS (post traumatic stress). The use of acupuncture for PTS has been scientifically proven to reduce anxiety levels and stress in individuals (reference J Nerv Ment Dis. 2007 Jun;195(6):504-13.). Studies have been conducted with soldiers who have experienced PTS after violent wars, and found acupuncture relieved symptoms such as migraines, anxiety, depression, and insomnia and pain. The improvements due to acupuncture were also found to be very rapid, significant and long lasting.
Many times, depending on the severity of the emotional response, we may recommend for our patients to seek additional therapy or counseling. We find that acupuncture combined with spiritual or psychological counseling addresses the body, mind and emotions in a way that provides faster results that are sustained over time. We might also recommend exercise, meditation and/or breathing exercises along with other lifestyle changes that can help the body and mind heal naturally. See our post on Guided Meditation below for some free meditations to calm your mind. Our post on Breathing Exercises might be of help too.
One of our Clinic friends Carol, wrote this about her recent experience.
"I was visiting at Red Earth Acupuncture, when I experienced what my bereavement counselor calls a 'grief burst'. One moment you're fine, and the next moment you are engulfed in deep, overwhelming sorrow. Sarah arranged a session with Rawls, and within an hour, the sorrow was replaced by a grounded sense of well-being. The next day I was able to make a long drive to attend a funeral. The funeral lasted for almost 3 hours. It was long, hot and teary. But I was able to get through the day with a feeling of quietness and closure.
This made me think about how many times people need to turn to pharmaceuticals for help. But all pharmaceuticals have substantial side effects, and I was grateful for the natural, drug-free relief that I received at Red Earth."
If you or someone you know could use some relief from the feelings of despair, fear, sadness, anger, grief or anxiety, without the side effects of drugs, please give us a call.
Posted in Acupuncture, Lifestyle