Our Response to the Current Outbreak
Over the weekend, I talked with my Mom on the phone. My folks live in the sparely populated city of Rexburg, Idaho, about an hour and some change outside of Yellowstone National Park. She is 74 and has a history of chronic respiratory illness — exactly the demographic that we (according to current epidemiological data) should be concerned about. The message to my folks bears broader relevance to our patients and Red Earth, so I want to share some of our conversation. Hopefully this will put things into context and assuage some fears.
A little bit more about my Mom. My folks moved to Idaho about the time I started my training Chinese Medicine. I helped them find a fantastic practitioner in nearby Idaho Falls, which they go to for the routine and month-to-month stuff. However, I have reserved much of the heavy lifting for myself to treat because their Acupuncturist is not "Classically Trained" to modify the herbal formulas and uses pre made herbs rather than recreating the traditional formulas as traditional dosages. Here is a summary of our conversation.
"The News" predictably is shilling fear, boosting ratings to increase revenue and otherwise doing everything they can to capitalize on the current situation — a formula not likely to change. Unfortunately what is getting drowned out by the ratings is the all important "WHY" public health officials are taking steps they are taking, including quarantine and suggesting people modify and limit social interaction. It all basically boils down to slowing the transmission rate. Epidemiologists, experts in the study of how disease spreads, know that the doubling rate of this outbreak is about every four days. Which means that for however many people are infected (whether they know it or not), four days later twice as many people will be infected. If ten people are infected it only takes four days for that number to reach 20 and four days later there will be 40, then 80 and so on. If we have 100,000 infections then four days later there will be 200,000 — you get the picture. As long as this data holds, you can see how people without the context easily become and remain scared.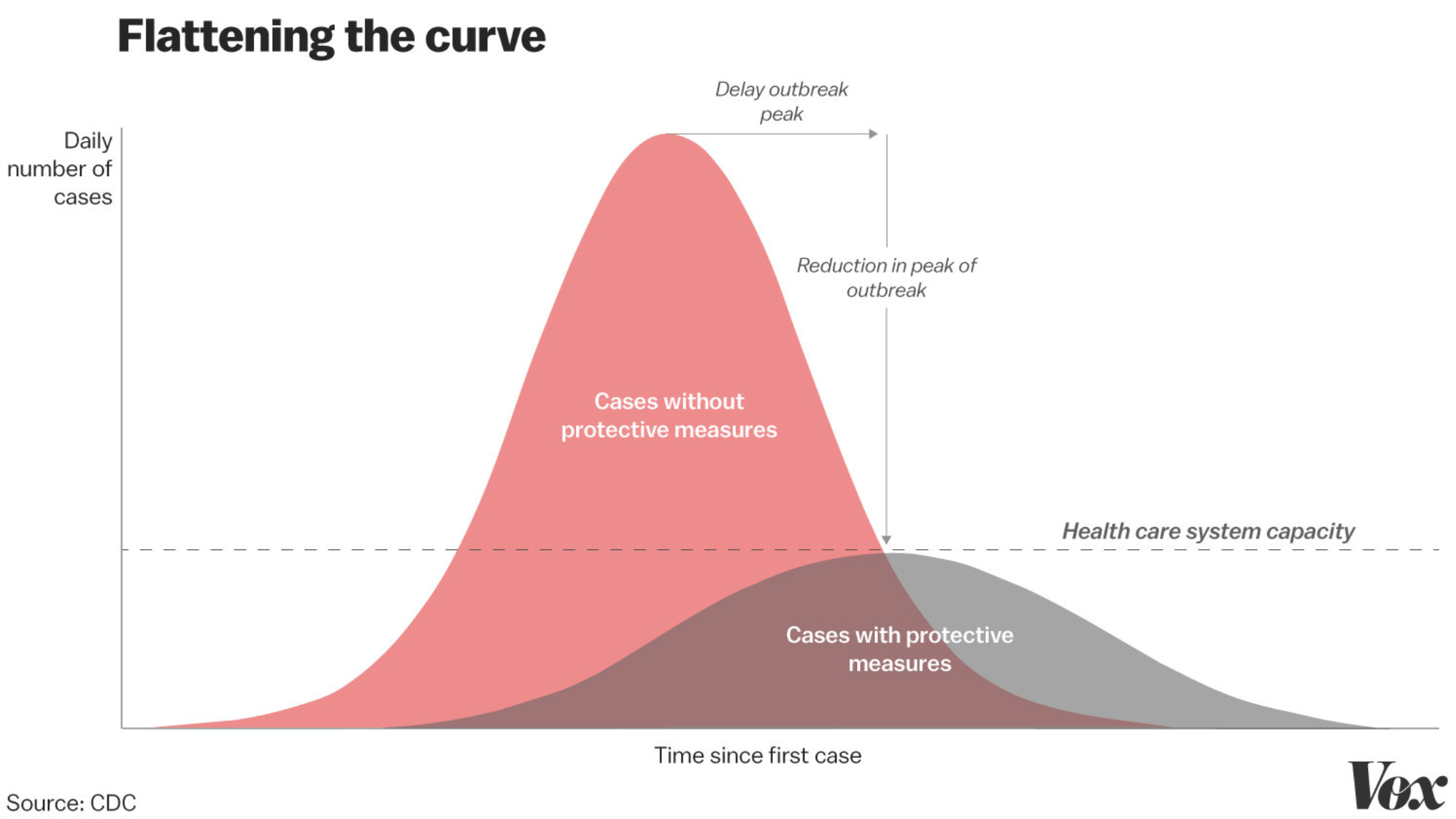 The fact is that this virus, for most people, is not deadly. So, if the virus isn't ALL THAT for most people, why are Public Health Officials trying to slow the disease progression? Take away the twitter feeds of parents spraying children down with Lysol before going to school - I kid you not (terrible pun absolutely intended) - and the absurdity of the current run on toilet paper and the dissemination of false information about the virus and how it spreads, and this outbreak has the potential to be an AMAZING triumph of public health policy. Here is why:
All of the public health initiatives are designed to slow the rate of transmission, making it basically a numbers game. Unlike other recent outbreaks, like Ebola (which, despite all the scary news reporting of the time, was NOT a cause for alarm), the transmission rate of COVID-19 is very high. This allows the virus to spread rapidly through the population. The good news is that, even though this virus is highly infectious, the vast majority of people who are exposed experience mild and even largely non-existent symptoms. The bad news is that for a small portion of the population for whom the virus symptoms are severe and life threatening, including people like my Mom, they have a very high risk of being infected by someone who doesn't know they are sick. This is where public health policy comes into play, given the high infection rate and low risk for almost all people who are exposed, the chances accidentally infecting people like my Mom goes way up. The goal of public health officials is to slow the transmission rate enough so that WHEN (not if) large numbers of this population start to contract the virus, there are enough resources available to handle the number of people that need care critical to their needs. This is true whether they are being treated at a major hospital or a small clinic like Red Earth.
Fortunately, the way we treat and the standard of care we currently follow naturally puts our patients visiting the clinic at lower risk for accidental transmission than other venues and clinics.
Here is a summary of our current practices:
Air Filtration: For the past 10 years, we have used an air filtration system in the clinic that removes, not only moxa smoke from the air, but also airborne viruses and bacteria.
Surface Sanitation: After each patient, we perform a wipe down treatment surfaces and supplies that are non-inserted. Hard surfaces and treatment tables and place freshly laundered sheets on treatment tables.
Needles inserted are single use and properly disposed of.
Practitioners wash hands after leaving the treatment room and before entering treatment rooms.
In addition we are implementing the following additional measures to keep the clinic as safe as possible:
Patients will stop off in the bathroom and wash their hands upon entering the clinic.
Change to sanitation agent: We are changing our surface cleaning agent to one that is clinically shown to kill Corona Viruses with in one minute of contact on hard surfaces.
Increasing the frequency of wiping down surfaces, including the checkout counter and door knobs.
We will offer tea in disposable cups.
We are watching developments very carefully and we urge everyone to be prudent to slow the rate of transmission down to levels sustainable for our healthcare system.
Posted in