Exploring Brown's Mill
Last month, I covered Line Creek in Peachtree City. This month, I'm going to talk about the trails Samhain and I used while getting into a walking schedule-Brown's Mill Battlefield in Newnan, GA.
We started with just going around the parking lot 2-3 times, then moved on to the two main walking loops-red and blue trails. The map is on the side, but they are about 1.3 miles and 2.1miles respectively. Along those loops, there are side trails, including the cougar trail, Native trail, and native plant trail(not shown.)
Besides the walking loops, there are the hiking trails-the beginner loop(0.6 miles), the inner loop(1.8 miles), and outer loop (3.6 miles). Please note that the these trails are shared with bikes. The bikers are generally polite and will let you know if more are coming behind them. Just spend a moment on the side of the trail taking in the view. All of these trails meet at different points, so, if one is feeling a bit hard for your day, it's possible to move an easier trail. Just pay attention to the direction you're going or you could end up taking a longer walk.
The trails also vary in difficulty. For example, the outer loop isn't just longer, there's a lot of going up and down some steep hills, so it's not a trail I do often. Even Samhain was angry the first time we walked it (you think I'm joking, but he avoided me for the rest of the day.) The beginner trail is pretty basic and the inner loop is somewhere in the middle.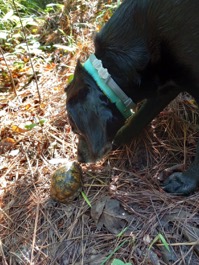 Be aware, this is not a paved trail and there's a lot of different wildlife roaming the area. Just step to the side and leave them be(no turtles were harmed, just startled). This also means that it may not be the best place for a new runner. There are different trails and walking paths in the area that can help if that's your goal. These trails are best for hikers, bikers, and experienced trail runners.
Some of the trail views:
Though I wouldn't recommend going into the water, there is a space to rest at the halfway point if you need it. All of the trails except for the beginner loop meet at this lake.
This is a historical site, so there's several places to stop and read about the history of the area. Most are located on the Red/Blue Trails.
Posted in Lifestyle, Movement